This next collection includes over 300 new and vintage knives. Some of the items date back to WWI. I can only imagine the stories they could tell. Since there is such a vast variety of brands and styles to this collection it was suggested, I should call it the magic circle of knives collection. A suiting name for this lovely bunch of knives! If you are interested, below you can read this great article by Jan Carter at I Knife collector that she graciously agreed to share on the topic. (Thank You Jan!)
Because of the large quantity of unique individual knives, I will be listing them as time permits over the next few weeks. Be sure to check out the store periodically so you don't miss anything. As always thanks, to those of you who buy and those who sell. I love running this little business and I couldn't do it without you!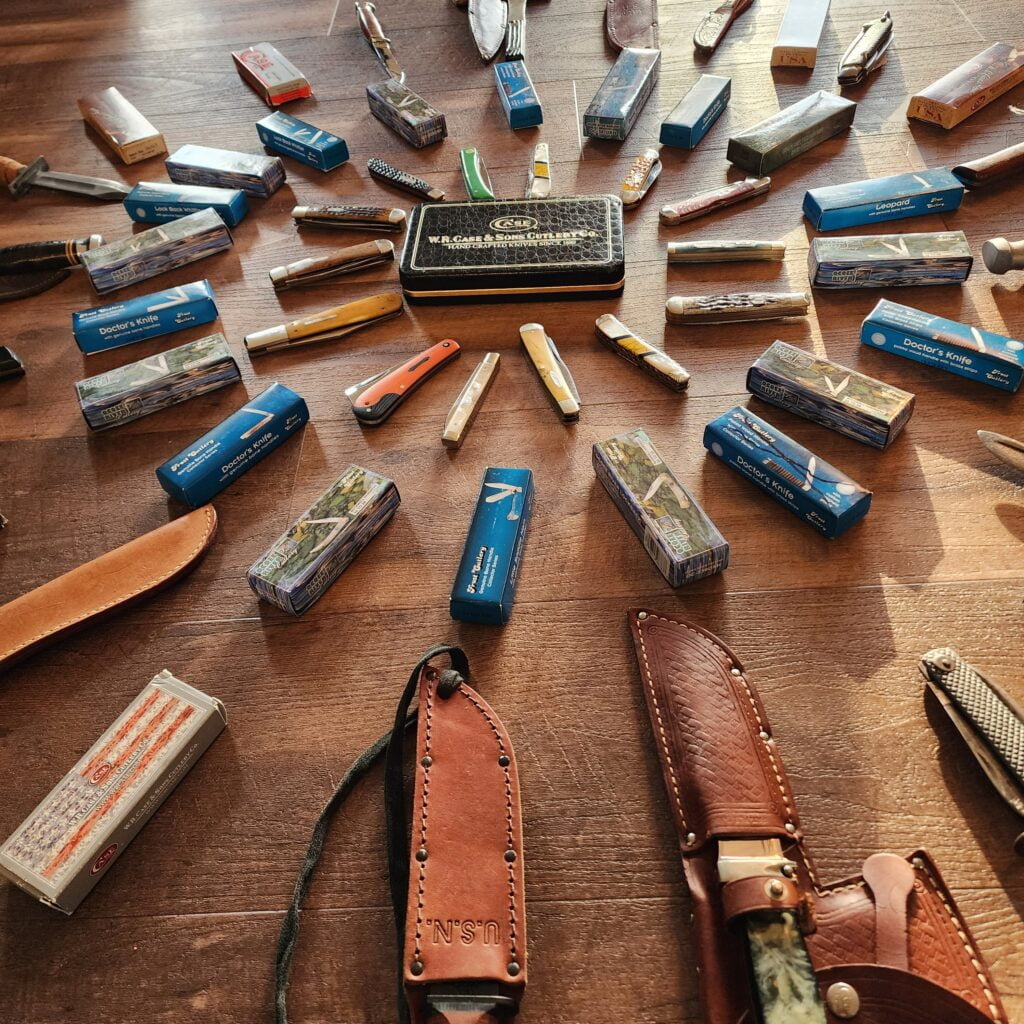 The Magic Circle of Knives
In the early 1900's there really was a magic circle.
Less than 100 miles of two states held all the names we know and love and then some. Competition was strong and only a handful would survive the test of time.
While some of them were "jobbers" and not manufactures they were having their products produced within the circle.
In the 1920's the following companies existed in that 100 mile range
Union Cutlery, Olean, NY Cattaraugus Cutlery, Little Valley, NY W.R. Case & Sons, Bradford, PA
Coleman Cutlery, Titusville, PA Schatt&Morgan, Tiyusville, PA Kinfolks, Little Valley, NY
Cuba Knife Co., Cuba, NY Jess V. Crouch, Titusville, PA Queen City, Titusville, PA
K. Corp, Titusville, PA Robinson Knife Co., Bradford, PA Chris Wolf, Titusville, PA
Baldwin Cutlery Co, Tidioute, PA Standard Knife Co. Bradford, PA
With the great depression looming in the near future and such intense competition in a small area Baldwin Cutlery is sold to Vern Atkins, a local cutler. It was renamed the Penn Cutlery & Tool Company of Tidioute, PA.
This is one of my favorite areas to visit. Imagine what it must have been like when all those companies existed with 100 miles of one another. Imagine the knives that are still in that area and yet to be discovered in grandpa and grandmas attic and basement.